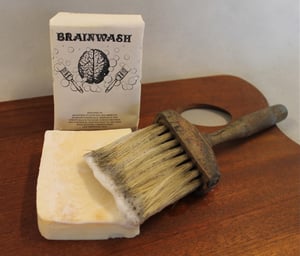 $

8.00
BRAINWASH all natural brush soap, is made with all natural ingredients and has been uniquely formulated by Erin Adams, connoisseur of decorative finishes and custom brushes.
It keeps your brushes conditioned and properly cleaned, promoting a longer lifespan for your bristly friends. It leaves your brushes really soft.
Designed for larger size brushes between 2-5 inches or smaller.
BRAINWASH is handmade with saponified olive oil, palm oil, and orange and lemon essential oils. "Good for your skin... Good for your brushes"