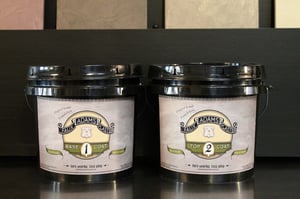 $

120.00
Adams Faux Plaster is a water based paint system primarily for wall and ceiling applications.
It is a 2 part system:
Part One is the build up of a plaster-like texture using trowels or plaster spatulas to apply the material on walls and ceilings. May Require two coats applied with trowel.
Part Two is also applied by trowel or plaster spatula which settles into the plaster texture created by part One and gives the look of, or imitates Venetian Plaster. This system is "made to order" from the client's fan deck color choices and can be ordered as Low VOC.
Coverage: 400-450 square feet per gallon.
Easily cleans up with soap and water.
Easily touches up following the same 2 part process above.